Jennifer Lawrence
On Acting: "I never felt like I completely, 100% understood something so well as acting." - Jennifer Lawrence

Jennifer Lawrence in Winter's Bone
Buy This at Allposters.com
Quick Facts
Born: August 15th 1990
Place of Birth: Louisville, Kentucky, United States
Nickname: Jen
Best Actress Oscar Nomination: Winter's Bone (2010)
Signature Role: Katniss Everdeen in "The Hunger Games" (2012)


The Story So Far....

Jennifer has had a dream start to her acting career. After making her first appearance in the TV movie "Company Town" (2006), more TV ("The Bill Engvall Show") & film roles ("The Poker House", "The Burning Plain") soon followed. Before she could catch her breath, at the young age of only 20, she received a Best Actress Oscar nomination in 2010 for her role in the gritty drama "Winter's Bone". High profile roles in franchises such as "X-MEN" (2011) & "The Hunger Games" (2012) soon followed. Jennifer Lawrence has very quickly cemented herself a place as one of Hollywood's hottest new stars.
Twilight - Could Have Been?
or Should Have Been?
Jennifer Lawrence may have won the coveted role of Katniss Everdeen in "The Hunger Games" but she could have so easily been cast as Bella Swan (Kristen Stewart's role) in the "Twilight Saga". Here are a couple of quotes where Jennifer expresses her feelings about missing out on the highly sought after "Twilight" role....
On Twilight: "I think that everything happens for a reason. Everything happened the way that it did, especially because I really like Kristen in the Twilight movies. I can't really imagine anybody else doing it; I think she's a great Bella". - Jennifer Lawrence
On Auditions: "I've never really been disappointed about not getting anything. I mean, I was just with every actor in New York or LA auditioning for whatever's out there. But I felt that whatever is meant to be, will happen. I actually had no idea what they were. When the movies came out, I went 'Wow!" - Jennifer Lawrence
The Hunger Games - Katniss speaks!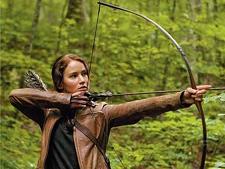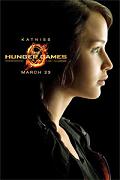 For Jennifer Lawrence the bow & arrow weilding Katniss Everdeen could well & truly be her version of a female Robin Hood. Here, Jennifer expresses some of her thoughts & feelings about the 16 year-old fighter she portrays in the exciting "Hunger Games" franchise.
On The Hunger Games: "The first time that Katniss has to go into the cylinder and she goes up into the arena and looks around and sees it for the first time," says Lawrence. "Knowing that when that trumpet blows she could die. The thing that's great about her is she's not a murderer. She's a hunter, but she's not a killer. I told Gary, 'I totally understand if you don't hire me, but please remember that after Katniss shoots a bow and kills someone her face cannot be badass. It has to be broken.' She has to be heartbroken because she just took another person's life. It's so tempting, especially with a cool, big budget franchise movie, but we have to remember that she's a 16-year-old girl who's being forced to do this. These kids are only killing each other because if they don't, they'll die. It's needless, pointless, unjustified violence. So there's nothing cool about her. It's not like she looks around the arena and goes 'Yeah, I got this, I'm going to do this.' I think she looks around terrified and thinks, 'Well there are all the million different ways that I can die'."
Jennifer in Filmink Magazine - March 2012
For fans who are excited to capture some of the early buzz surrounding "The Hunger Games" - check out the March 2012, special teen themed issue of Filmink Magazine ("Australia's Best Movie Magazine") featuring "The Hunger Games" & its star Jennifer Lawrence on the cover. In "The Hunger Games" 6-page cover-story FilmInk gets the lowdown from director Garry Ross, leading lady Jennifer Lawrence and co-stars Josh Hutcherson, Liam Hemsworth and Woody Harrelson, about their adaptation of the much loved cult sci-fi novel. As a bonus for fans of teen movies, Tony & Doug Pichaloff, creators of this website & authors of the new movie book Hollywood Teen Movies 80 From The 80s The Good, The Bad & The Forgotten are also featured inside. Their 4-page feature article titled "Teenage Wonderland - The Evolution Of The Teen Movie" is a fascinating must-read. Tony & Doug take you on a stroll through the wonderful world of American teen movies: From the fifties swagger of "Rebel Without A Cause" and "Blackboard Jungle" and the sixties fun of "Beach Blanket Bingo" through to current adolescent crushes including "The Twilight Saga" & "The Hunger Games". The March 2012 edition of Filmink will be on sale in newstands from February 15th to March 15th - if you miss out on your copy & need one for the collection, feel free to contact us at hollywoodteenmovies@hotmail.com & we will try to get you a back-issue from the publishers. A definite must have for fans!
The Hollywood Image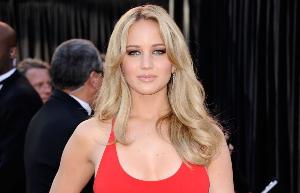 Maintaining a positive image on & off-screen is always a battle for any film or TV star. Jennifer Lawrence looks great on-screen but there will always be pressure to maintain a good public image. Here, Jennifer expresses some of her thoughts regarding diet & appearance....
On Diet & Image: "I don't really diet or anything. I'm miserable when I'm dieting and I like the way I look. I'm really sick of all these actresses looking like birds... I'd rather look a little chubby on camera and look like a person in real life, than look great on screen and look like a scarecrow in real life".
Beyond "The Hunger Games"
A lot of actors like to dabble behind the scenes in the filmmaking process. Some become directors, producers, writers & even film editors. Who knows, Jennifer Lawrence might one day become an accomplished film director. Here are some of her thoughts....
On The Future: I'd like to direct at some point. But I don't know because 10 years ago I would have never imagined that I'd be here. So in 10 years from now, I might be running a rodeo.

Five Must-Own Jennifer Lawrence Movies
on DVD & Blu-Ray
The Poker House (2008) [DVD]
Lori Petty makes her feature directorial debut with this tale that's inspired by true events in Petty's childhood. Jennifer Lawrence plays a young girl who's a prisoner of her surroundings that include an alcoholic, drug-addled mother (Selma Blair) and a pimp father (Bokeem Woodbine). As she struggles to endure a home full of gamblers and criminals with her two younger sisters, Lawrence must find a way to escape her plight. David Alan Grier co-stars. 93 min. Widescreen; Soundtrack: English Dolby Digital 5.1; Subtitles: English (SDH), Spanish.
The Burning Plain (2008) [Blu-ray]
"21 Grams" scribe Guillermo Arriaga wrote and directed this scorching film involving a troubled, promiscuous Oregon waitress (Charlize Theron) followed by a man (Jose Maria Yazpik) with a mysterious agenda, while a parallel narrative relates the story of an unfaithful New Mexico housewife (Kim Basinger). Find out how these characters' destinies connect in this multilayered drama. Co-stars Jennifer Lawrence, Joaquim de Almeida, Danny Pino. 107 min. Widescreen; Soundtrack: English DTS HD 5.1 master audio; Subtitles: English (SDH), Spanish.
Winter's Bone (2010) [Blu-ray]
With the threat of her family being evicted from their home in the Ozarks if her bail-jumping father isn't caught within the week, 17-year-old Ree Dolly (Jennifer Lawrence) takes to the backwoods in search of her fugitive parent. An upbringing of hardships serves Ree well as she works her way through thorny obstacles and threats made by her own kin. Director/co-writer Debra Granik's acclaimed thriller, based on Daniel Woodrell's "country noir" novel, co-stars John Hawkes, Shelley Waggener. 100 min. Widescreen (Enhanced); Soundtrack: English DTS HD 5.1 Master Audio; Subtitles: English (SDH), Spanish; audio commentary; deleted scenes; "making of" featurette; alternate opening; music video; theatrical trailer.

X-Men: First Class (2011) [Blu-ray]
Set against the backdrop of the looming Cuban Missile Crisis, this thrilling prequel shows mutants Charles Xavier (James McAvoy) and Erik Lensherr (Michael Fassbender) as friends before they became enemies as Professor X and Magneto. Recruited by the CIA, Xavier and Lensherr lead the first team of X-Men on a mission to prevent evil mutants Sebastian Shaw (Kevin Bacon) and Emma Frost (January Jones) from starting a global nuclear war. With Rose Byrne, Jennifer Lawrence. 132 min. Widescreen; Soundtracks: English DTS HD 5.1 Master Audio, DVS Dolby Digital 5.1, French Dolby Digital 5.1, Spanish Dolby Digital 5.1; Subtitles: English (SDH), French, Spanish; featurettes; deleted scenes; extended scenes; documentary; isolated music score.

Like Crazy (2011) [Blu-ray]
So wildly in love are Los Angeles college students Jacob (Anton Yelchin) and Anna (Felicity Jones)--a British citizen with a temporary visa--that she decides to remain for the summer after her permit expires. The penalty for her romantic indiscretion is being barred from returning to the U.S., which puts their passionate relationship to heart-wrenching tests. Director/co-writer Drake Doremus' intimate drama co-stars Jennifer Lawrence, Alex Kingston, and Charlie Bewley. 90 min. Widescreen; Soundtrack: English DTS 5.1 HD Master Audio; Subtitles: English (SDH), French, Portuguese, Spanish.

***** HTM Exclusive Videos *****
Who Is Katniss?
Before the teen blockbuster "The Hunger Games" is released on March 23rd 2012... We pose the question... Who is Katniss? This exclusive video from Hollywood Teen Movies introduces an exciting new star & a fascinating new character in what is set to become one of the biggest movies of 2012. Let the franchise begin with this Exclusive HTM "Who is Katniss?" video...
Top 10 Teen Stars of 2011
Who are the "Top 10 Teen Stars Of Today"? "Twilight" stars Kristen Stewart, Robert Pattinson & Taylor Lautner are just some of the fascinating personalities featured, but who are the other 7 stars? Find out who they are by checking out our selection in this "Exclusive Countdown Video". Now Showing here & on our YouTube Channel.
"Celebrating The 80s" - Official Book Trailer
"Teen Movies Needed Some Long Overdue Respect" - Hollywood Teen Movies celebrates the 1980s & 10 fantastic years online with this Official promo for the new book "Hollywood Teen Movies 80 from the 80s - The Good The Bad & The Forgotten". Hope you enjoy this nostalgic trip back to arguably "the greatest decade in teen movie history". The images, the fashion, the sound, the stars, the movies & of course the book are all captured in this visual extravaganza that is pure 80s Movie Magic at its very best! This Exclusive 80s flashback video is Now Showing on this page (play button below) and on our YouTube Channel. Come on shout and breakout as we go back to re-live all the memories of the totally awesome 80s.....
Celebrating 10 Years Online
www.hollywoodteenmovies.com has been around now for over 10 years. To celebrate our anniversary year we have created 2 special promo videos that capture the essence of teen movies throughout the decades. Sit back, relax and let the memories flashback as we take you on 2 different journeys through 70 amazing years of teen movies. Video 1 titled "Hollywood Teen Movies 70 Years Of Memories" is a pictorial cavalcade of teen movies from the 1940s to the new millennium. Video 2 titled "Teenager in Love" focuses on the romance element that is prevalent in many of the great teen movies. These Exclusive videos are Now Showing on this site & on our YouTube Channel. Enjoy the rides.....
70 Years of Memories
Teenager In Love
**********************************************************************************************
*********************************************************************************************