The Darkest Hour (2011)
THE DARKEST HOUR is the story of four young people who find themselves stranded in Moscow, fighting to survive in the wake of a devastating alien attack. It combines mind-blowing special effects from filmmaker Timur Bekmambetov ("Wanted") with the grounded vision of director Chris Gorak ("Right At Your Door").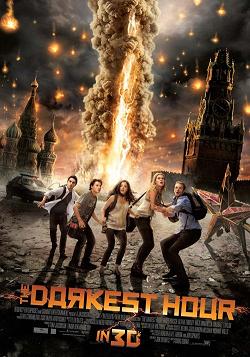 "The Darkest Hour" - In a Nutshell
"Slick, fast-paced & engaging teen sci-fi thriller with
an onslaught of vaporising special effects."
Tony Pichaloff www.hollywoodteenmovies.com
© Copyright Hollywood Teen Movies. All rights reserved.
Film Facts
U.S. Release Date: 25th December 2011    
Running Time: 89 min
U.S. Classification: PG-13              
Director: Chris Gorack
Starring: Emile Hirsch, Olivia Thrilby, Max Minghella, Rachael Taylor

Taglines:
* The invasion begins Christmas day!
* Survive The Holidays
Cinema Synopsis
Sci-fi thriller about a group of young Americans visiting Russia when invisible extraterrestrials invade earth. Stars Olivia Thirlby (The Wackness), Emile Hirsch (Into the Wild) and Rachael Taylor (Grey's Anatomy). Stranded in a desolate Moscow, the five yanks are forced into the seemingly impossible task of surviving and escaping the onslaught brought on by the energy-absorbing creatures. Produced by Russian filmmaker Timur Brekmambetov (Night Watch, Wanted), the film promises to differentiate itself from other alien invasion movies by showing the attacks and responses from a Russian perspective.
Darkest Hour on Blu-ray, DVD & CD
More Sci-Fi Fun on DVD & Blu-ray
Super 8 (2011) [DVD]
In 1979, a group of small-town Ohio teenagers accidentally films a train wreck while making a Super 8 movie. The sudden arrival of the military and a series of bizarre occurrences prompt the kids to conduct their own investigation, leading them into the middle of a government cover-up of an extraterrestrial that crashed over 20 years earlier. But is the alien visitor friend or foe? Joel Courtney, Elle Fanning, Kyle Chandler star in this sci-fi thriller from writer/director J.J. Abrams and producer Steven Spielberg. 111 min. Widescreen (Enhanced); Soundtracks: English Dolby Digital 5.1, DVS, French Dolby Digital 5.1, Spanish Dolby Digital 5.1; Subtitles: English, French, Spanish; audio commentary; featurettes.
Skyline (2010) [Blu-ray]
Traveling to Los Angeles to celebrate a friend's birthday, Jarrod (Eric Balfour) and Elaine (Scottie Thompson) find themselves smack in the middle of an alien invasion after meteors strike the city and gigantic spaceships arrive to suck up the locals like giant vacuum cleaners. Is the extraterrestrial nightmare the result of some grand plan...and will anyone survive long enough to learn it? Effects-filled blockbuster co-stars Donald Faison, Brittany Daniel. 94 min. Widescreen; Soundtracks: English DTS HD 5.1 Master Audio, DVS Dolby Digital stereo, French DTS 5.1, Spanish DTS 5.1; Subtitles: English (SDH), French, Spanish; audio commentary; deleted scenes; extended scenes; alternate scenes; featurette.
Cloverfield (2008) [Blu-ray]
A normal evening in Manhattan becomes a fight for survival when a gigantic, horrific monster of unknown origin begins decimating the city. Surrounded by panic and fear, a young man leads a small group of his friends on a desperate trek across town to rescue the woman he loves, their daring journey documented on a hand-held digital video camera that provides a harrowing first-person perspective. Michael Stahl-David, Jessica Lucas, Odette Yustman, Lizzy Caplan, T.J. Miller star. 84 min. Widescreen; Soundtracks: English TrueHD 5.1, French Dolby Digital 5.1, Spanish Dolby Digital 5.1; Subtitles: English (SDH), French, Portuguese, Spanish; audio commentary; featurettes; deleted scenes; alternate endings.
***** HTM Exclusive Videos *****
Top 10 Teen Stars of 2011
Who are the "Top 10 Teen Stars Of Today"? "Twilight" stars Kristen Stewart, Robert Pattinson & Taylor Lautner are just some of the fascinating personalities featured, but who are the other 7 stars? Find out who they are by checking out our selection in this "Exclusive Countdown Video". Now Showing here & on our YouTube Channel.
"Celebrating The 80s" - Official Book Trailer
"Teen Movies Needed Some Long Overdue Respect" - Hollywood Teen Movies celebrates the 1980s & 10 fantastic years online with this Official promo for the new book "Hollywood Teen Movies 80 from the 80s - The Good The Bad & The Forgotten". Hope you enjoy this nostalgic trip back to arguably "the greatest decade in teen movie history". The images, the fashion, the sound, the stars, the movies & of course the book are all captured in this visual extravaganza that is pure 80s Movie Magic at its very best! This Exclusive 80s flashback video is Now Showing on this page (play button below) and on our YouTube Channel. Come on shout and breakout as we go back to re-live all the memories of the totally awesome 80s.....
Celebrating 10 Years Online
www.hollywoodteenmovies.com has been around now for over 10 years. To celebrate our anniversary year we have created 2 special promo videos that capture the essence of teen movies throughout the decades. Sit back, relax and let the memories flashback as we take you on 2 different journeys through 70 amazing years of teen movies. Video 1 titled "Hollywood Teen Movies 70 Years Of Memories" is a pictorial cavalcade of teen movies from the 1940s to the new millennium. Video 2 titled "Teenager in Love" focuses on the romance element that is prevalent in many of the great teen movies. These Exclusive videos are Now Showing on this site & on our YouTube Channel. Enjoy the rides.....
70 Years of Memories
Teenager In Love
**********************************************************************************************
*********************************************************************************************