Up The Creek (1984)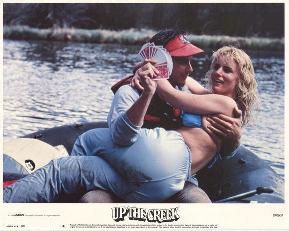 THE WAIT IS OVER
DVD Release Date: December 27th 2011
Time to throw your well worn VHS tape away! Finally, after all these long years fans will be pleased to hear that the 1980s teen college comedy "Up The Creek" has found its way on to DVD, thanks to MGM's Limited Edition line of releases. Also, the good news for fans it that the movie has been released in a nice crisp Widescreen format. The rapids, the chicks and the mad-cap teens have never looked better. Use the link below & grab a copy today!
"Up The Creek" - In a Nutshell
"College hi-jinks make a splash in this raunchy, white-water fraternity romp in the stupendous tradition of "Animal House" & "Porky's".
Tony Pichaloff www.hollywoodteenmovies.com
© Copyright Hollywood Teen Movies. All rights reserved.
Starring: Tim Matheson, Jennifer Runyon
Stephen Furst, Dan Monahan & Jeff East
Director: Robert Butler
Cinema Release Dates:
6th April 1984 (USA)
7th June 1984 (Australia)
Taglines: Get set to get wet!
Who says a bunch of boobs can't win a race?
The funniest, raciest, wildest white-water raft race ever!
Brief Film Synopsis: Four delinquents from the worst university in the area have one chance to bring honor to their institution, in this hilarious & titillating whitewater raft race flick.

Up The Creek on DVD
Up The Creek (1984) [DVD]
Not to be confused with "Up the Academy," this sexy and comic romp is "Animal House" on the water--the wild tale of an outrageous raft race that gets underway to decide which college is better. On hand for the competition are a batch of comely co-eds and a super-intelligent pooch! Tim Matheson, Stephen Furst, and John Hillerman star in this goofy farce. 96 min. Widescreen (Enhanced); Soundtrack: English.
Animal House on Blu-ray & DVD
National Lampoon's Animal House (1978) [Blu-ray]
One of the first--and perhaps the greatest--of the "gross-out" comedies, and John Belushi's quintessential screen performance. Watch as the misfits of Delta House use food fights, dead horses, toga parties and other tactics to battle the "straights" and administrators of Faber College in 1962. Tim Matheson, Peter Riegert, Tom Hulce, Karen Allen, Donald Sutherland, and Otis Day and The Knights also star. 109 min. Widescreen; Soundtracks: English DTS HD 5.1 Master Audio, French DTS mono, Spanish DTS mono, German DTS mono, Italian DTS mono; Subtitles: English (SDH), French, Spanish, German, Italian, Swedish, Danish, Finnish, Dutch, Norwegian; documentaries; more.
National Lampoon's Animal House (30th Anniversary Edition) [DVD]

Animal House Poster

Animal House
Buy This at Allposters.com

***** HTM Exclusive Video *****

Teen Sex Comedies of the 1980s
Hollywood Teen Movies presents a sneak peak at some of the groovy Teen Movies featured in our new book: Hollywood Teen Movies 80 From The 80s - The Good, The Bad & The Forgotten. This Video highlights "1980s Teen Sex Comedies". Raunchy, knockabout teen-sexcapades, that are often hilarious but sometimes controversial. As Spicoli from "Fast Times" would say..."Hey Bud, Let's Party!" This Exclusive video is Now Showing on this page & on our YouTube Channel.
**********************************************************************************************
*********************************************************************************************