Do You Remember - Jennifer Runyon ?
Special Feature by Tony Pichaloff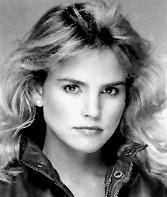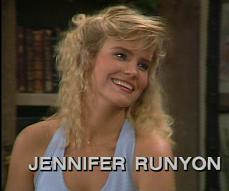 Born: April 1st 1960
Place of Birth: Chicago, Illinois, USA
Signature Role: Gwendolyn Pierce on TVs "Charles in Charge"
"I have seen the next Marilyn. She is blond, impossibly beautiful and can handle drama as well as comedy. She has a soft, lilting, breathless way of speaking, and a combination of natural intelligence and fresh naivete. She lights up the silver screen. Her name is Jennifer Runyon". - Richard Roeper Chicago Sun-Times (August 1986)

If you grew up in the 1980s & watched a lot of TV during the era you will probably remember the face - maybe even the name. Jennifer Runyon was a cute blonde bombshell from Chicago Illinois who came to California seeking acting gigs in the early 1980s. After landing a role in the low-budget Santa Claus slasher flick "To All A Goodnight" (1980), Jennifer quickly moved forward to become a regular on the TV series "Another World" (1981-1983). She appeared in 4 episodes as the character Sally Frame.
Next up for Jennifer was a substantial role in the failed TV pilot "Six Pack", a TV re-working of the big screen film that starred Kenny Rogers & Diane Lane. Jennifer was cast in the Diane Lane role, Don Johnson was cast in the Kenny Rogers role but the pilot faiiled to take flight. Other actors that appeared with Jennifer in the 60 minute episode included Markie Post, Billy Warlock & future Oscar nominee Joaquin Phoenix. More TV work followed for Jennifer with small roles in "Boone" (1983), "The Fall Guy" (1983) & "The Master" (1984) opposite cowpoke turned martial artist Lee Van Cleef.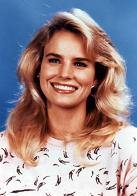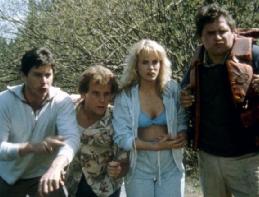 Above: Jennifer portrait & with the boys in "Up The Creek" (1984)

However, Jennifer's big-break came when she was given a starring role alongside Tim Matheson in the teen college comedy "Up The Creek" (1984). This white water rafting flick earned her considerable notice, particularly from teenage boys. After a long delay, "Up The Creek" was finally released in the United States on DVD during Christmas 2011. A long wait for Runyon fans - but better late than never! You can visit the "Up The Creek" feature page here.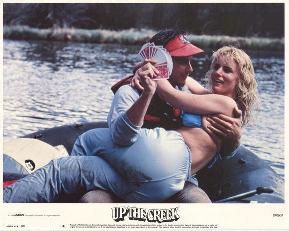 Above: Jennifer & Tim Matheson hit the water in "Up The Creek"
Soon after "Up The Creek" Jennifer snagged a memorable big-screen supporting role in the blockbuster comedy "Ghostbusters" (1984). Unfortunately, Jennifer only appeared in the opening test scenes opposite funnyman Bill Murray. What a pity, as she could have added so much more to the film if only the producers had decided to give her more screen time.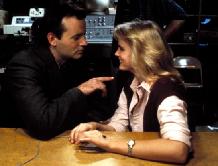 Above: Bill Murray & Jennifer in "Ghostbusters" (1984)
In no time at all Jennifer found her signature role when she was cast in the TV show "Charles In Charge" (1984). Her iconic character Gwendolyn Pierce opposite Happy Days' Scott Baio became the role for which she is most remembered. The popular sitcom ran from 1984 until 1990. Jennifer was a major star during season 1 but unfortunately appeared only briefly in subsequent seasons. By 1987 Jennifer had left the series - so for Jennifer fans, season 1 is definitely the keeper.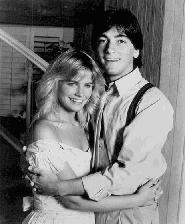 Above: Jennifer with Scott Baio in "Charles In Charge" (1984)
During the mid-80s Jennifer appeared in two feature films "The Falcon & The Snowman" (1985) with Sean Penn & Timothy Hutton and "Flight Of The Spruce Goose" (1986) with Karen Black. She also found time to appear in three made for TV movies - "Pros & Cons", "Dreams Of Gold: The Mel Fisher Story" & the comedy adventure "Blue de Ville" (all in 1986).
When her stint on "Charles In Charge" came to an end in 1987 she quickly picked up a starring role in the high profile teen dance musical, "The In Crowd" (1988) opposite Donovan Leitch. Never released on DVD this film is not an easy one to track down but nevertheless is a must-see for any Jennifer fan. It sometimes pops up to buy as a second-hand VHS. Check our link below for availability.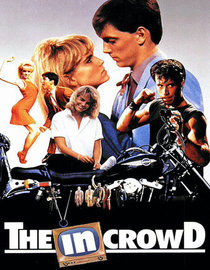 Above: Poster for the hard-to-find teen classic "The In Crowd"
Hot on the heels of "The In Crowd" came another teen flick, this time it was the body-swap comedy "18 Again!" (1988). Jennifer starred opposite newcomer Charlie Schlatter & old-timer George Burns. It has become something of fan favorite since its release.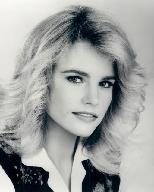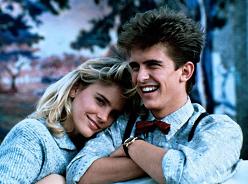 Above: Jennifer portrait & with Charlie Schlatter in "18 Again"
The late 1980s was a return to the small screen for Jennifer where she appeared in TV shows such as "Dear John", "Valerie" & the pilot episode of "Quantum Leap" (1989). In 1988 she even found time to star as Cindy Brady in the TV movie "A Very Brady Christmas".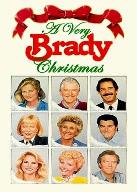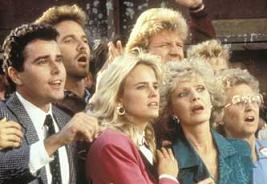 Above: Jennifer as Cindy Brady in "A Very Brady Christmas" (1988)
The early 90s was a mixed bag for Jennifer with more TV appearances, "Booker" with Richard Grieco, "Murder She Wrote" with Angela Lansbury & a memorable appearance in "Beverly Hills 90210". Thrown into the mix were a couple of low-budget film roles including "A Man Called Sarge" (1990) with Marc Singer & "Killing Streets" (1991) with Lorenzo Lamas & Michael Pare.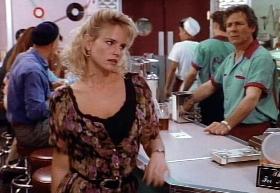 Above: Jennifer in an episode of "Beverly Hills 90210" (1991)
Sadly, not much has been heard of Jennifer after 1993 when she made her last film apperance in the B-Grade Roger Corman dinosaur epic "Carnosaur". This Jurassic Park spoof has made it to DVD & has since spawned 2 sequels. To track down "Carnosaur" check out the link below for availability.
Internet sources indicate that Jennifer married Roger Corman's nephew Todd Corman in 1991 and she is now the proud mother of two children. It seems that Jennifer has retired from acting but is still living in sunny California. Fans would love to see a comeback but it seems that nothing at this stage is in the pipeline so the future is unknown. Gwendoline Pierce if you are out there & notice this post we would love to hear from you & maybe you can help us update this page!
If you are a fan of Jennifer Runyon & would like to add any comments please feel free to sign the guestbook at the bottom of the page or contact us at hollywoodteenmovies@hotmail.com
Jennifer Runyon on DVD
Charles In Charge: The Complete First Season (1984) [DVD]
All 22 episodes from the debut season--including the pilot, "Another Saturday Night," "A Date with Enid," "Charles 'R' Us," and "Meet Grandpa"--are collected in a three-disc set. 9 hrs. total. Standard; Soundtrack: English Dolby Digital stereo; Subtitles: English (SDH), French, Spanish. **22 episodes on 3 discs. 9 hrs.**
Ghostbusters (1984) [DVD]
Bill Murray, Dan Aykroyd, and Harold Ramis are parapsychology professors who become spirit catchers-for-hire after getting fired from their university in this supernaturally successful comedy. And when the return of an ancient deity causes the dead to rise from the grave, the boys find all of New York City clamoring for their services. Sigourney Weaver, Rick Moranis, Ernie Hudson, Annie Potts, William Atherton co-star. Directed by Ivan Reitman; written by Aykroyd and Ramis. 105 min. Widescreen (Enhanced); Soundtracks: English Dolby Digital 5.1, Spanish Dolby Digital Surround, French Dolby Digital Surround; Subtitles: English, Chinese, French, Korean, Portuguese, Spanish, Thai; audio commentary; featurettes; storyboards; deleted scenes.
Up The Creek (1984) [DVD]
Not to be confused with "Up the Academy," this sexy and comic romp is "Animal House" on the water--the wild tale of an outrageous raft race that gets underway to decide which college is better. On hand for the competition are a batch of comely co-eds and a super-intelligent pooch! Tim Matheson, Jennifer Runyon, Stephen Furst, and John Hillerman star in this goofy farce. 96 min. Widescreen (Enhanced); Soundtrack: English.
Soul Man (1986)/18 Again! (1988) [DVD]
An ambitious white teenager hits upon a unique way to get into Harvard Law School: He disguises himself as a black student and wins a minority scholarship, only to learn a valuable lesson about life on the "other side of the fence." C. Thomas Howell, Rae Dawn Chong, Leslie Nielsen, and James Earl Jones star in "Soul Man." Then, a birthday wish causes octogenarian George Burns and grandson Charlie Schlatter to switch bodies, giving the now-youthful Burns a chance to smooth out Schlatter's scholastic and love life, in the feel-good comedy "18 Again!" With Jennifer Runyon, Red Buttons, Anita Morris, Pauly Shore. 3 1/2 hrs. total. Widescreen (Enhanced); Soundtracks: English Dolby Digital stereo, Dolby Digital mono.
***** HTM Exclusive Videos *****
"Celebrating The 80s"

"Teen Movies Needed Some Long Overdue Respect" - Hollywood Teen Movies celebrates the 1980s & 10 fantastic years online with this Official promo for the new book "Hollywood Teen Movies 80 from the 80s - The Good The Bad & The Forgotten". Hope you enjoy this nostalgic trip back to arguably "the greatest decade in teen movie history". The images, the fashion, the sound, the stars, the movies & of course the book are all captured in this visual extravaganza that is pure 80s Movie Magic at its very best! This Exclusive 80s flashback video is Now Showing on this page (play button below) and on our YouTube Channel. Come on shout and breakout as we go back to re-live all the memories of the totally awesome 80s.....
"80 From The 80s"
"Celebrating 10 Years Online"
www.hollywoodteenmovies.com has been around now for over 10 years. To celebrate our anniversary year we have created 2 special promo videos that capture the essence of teen movies throughout the decades. Sit back, relax and let the memories flashback as we take you on 2 different journeys through 70 amazing years of teen movies. Video 1 titled "Hollywood Teen Movies 70 Years Of Memories" is a pictorial cavalcade of teen movies from the 1940s to the new millennium. Video 2 titled "Teenager in Love" focuses on the romance element that is prevalent in many of the great teen movies. These Exclusive videos are Now Showing on this site & on our YouTube Channel. Enjoy the rides.....
"70 Years of Memories"
"Teenager In Love"
**********************************************************************************************
*********************************************************************************************